Johnny Warangkula Tjupurrula
To be Auctioned on July 25th 12 Noon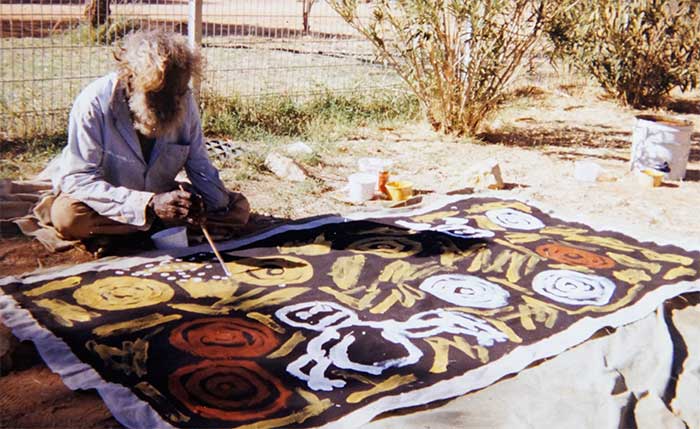 Tribe: Luritja/Walpiri/Pintupi
Area: Central & Western Desert
Born: Born c.1925-2001
(often referred to as Johnny W.) Johnny Warangkula Tjupurrula paintings encompass different layers of meaning. They represent important historical records, physical places, mythological events and ceremonies.
The primary stories painted by Johnny Warangkula are the Water Dreaming, the Bungalung Man Dreaming and the Bush Tucker Dreaming.
The Bungalung Man sits by the water soakage at Tjikarri – home of many of Johnny W's stories. The 'Bungalung Men Dreaming' is of a mythical struggle between the Bungalung and old Tingari man, where one man lights a fire and both eventually perish. Another comment made by Johnny W. describes the Bungalung Man as a giant, an oversized man of the Dreaming, whose tracks are left in the sand.
Another version of this story told by Johnny, mentions the Tingari man was travelling through the desert and the Bungalung man explained he would have to leave, for it was a forbidden territory. The Tingari man challenged the old Bungalung man to a boomerang and spear throwing contest. The old man refused and said if he did not leave, he would impose on the Tingari man a rain and hailstorm. In the end the hail became so strong and hard that it killed the Tingari man and kept him from ever trespassing on the land again.
The roundels represent water soakages at Tjakarri, surrounded by clouds (arc shapes) and the hail and rain (white dots). The backdround dot and marking/patch colours have two fold meaning, representing the traditional man's body paint markings and the bush tucker species.
Johnny Warrangkula was born in 1925 at Minjilpirri, located south of Lake Mackay and northwest of Illpili. Nearby are two major Dreaming sites; Tijari located north of the Sandy Blight Junction, Western Australia and Kalipimpinpa, situated north-west of the Sandy Blight Junction. Johnny's mother was of mixed Luritja/Walpiri/Pintupi descent and his father was Luritja/Walpiri. Johnny had a traditional bush childhood with no formal education in western schools. As a boy, Johnny remembers hiding from planes flying overhead that his people called 'mamu'. Like many Aboriginal families at the time, Johnny and his family moved to Hermannsburg, where a mission had been established. At Hermannsburg, Johnny went through the traditional Aboriginal Law Ceremonies of initiation 'to become a man'. At Hermannsburg, Johnny also worked as a labourer, digging the foundation for a new airport. The family moved to Haasts Bluff, where Johnny continued his labouring work, helping to build a new airport at Haasts Bluff as well as building roads to Mt.Liebig, Yuendumu and Mt.Wedge. As settlements were established, Johnny moved between various labouring jobs. Payment for his work was always in the form of 'tucker' or food, such as fresh fruit and vegetables, sugar, tea and tobacco. Johnny and his family moved from Haasts Bluff to Papunya in 1960.Here a new Aboriginal settlement had been built.
During the Queen's visit in 1954, Nosepeg Tjupurulla and Johnny Warrangkula were chosen as the Aboriginal representatives to meet the monarch. Whilst Johnny was serving on the Papunya Council with Mick Namarai, Kingsley Tjungarrayi and Limpi Tjapangati, he met a teacher, Geoffrey Bardon. Geoffrey supplied art materials at the request of the Papunya Council members, who were keen to record their stories on a permanent medium. This decision had historical implications as the dot – art movement was born. Geoffrey Bardon referred to Johnny's paintings as 'tremendous illusions' created by Johnny's personal style of layers of dots. Johnny became known as a major artist in the Aboriginal art movement. In 1984, the Sydney Morning Herald published a photograph of the Director of the Australian National Gallery, James Mollison, next to a work by Johnny Warrangkula. James Mollison declared the work of Papunya Artists to be 'the finest abstract art ever produced in this country'.
Johnny Warrangkula has become known as the 'Big J.W.'. In 1976, a painting by J.W. titled 'Water Dreaming at Kalipinypa' sold for a record $206,000. In 2000 another work by Johnny Warrangkula sold at Sotheby's Auction house for $486,000, at the time a world record for an Aboriginal painting.
For a time between the late 1980's until the mid 1990's, Johnny produced few works due to poor eyesight resulting from Trachoma. However, after receiving treatment, Johnny's enthusiasm for painting was rekindled, mainly driven by his desire to record his stories for future generations and to produce an income for his extended family.
Until his death in 2001, Johnny Warrangkula lived at Papunya with his wife, Gladys Napangka and his eight daughters and two sons.
Collections
National Gallery of Australia (Canberra)
Holmes a' Court Collection, Perth, Western Australia
Queensland Art Gallery, Brisbane
National Gallery of Victoria, Melbourne
Art Gallery of Western Australia, Perth
Art Gallery of South Australia, Adelaide
Orange Regional Gallery, New South Wales
Alice Springs Law Courts, Northern Territory
Museums and Art Galleries of the Northern Territory (Darwin)
Flinders University Art Museum, Adelaide
South Australian Museum, Adelaide
Lowe Art Museum, University of Miami
The Kelton Foundation, Santa Monica, USA
Showing all 6 results