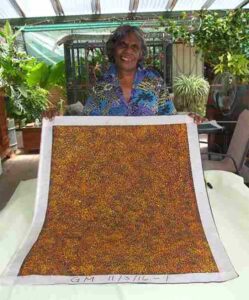 Tribe: Utopia
Area: Central & Western Desert
Born: approx 1950s
Gracie Pwerle was born in Utopia, Northern Territory. Her exact date of birth is not known, though she says 'it was a long time ago'. She now lives in the central desert.
There is a rich artistic tradition that runs in Gracie's family and she is related to a string of well respected artists. Her mother is sister to Gloria, Kathleen, Violet, Mrytle and Ada Bird Petyarre, all well established artists. Her sisters Mary, Rita and Elizabeth also paint.
Gracie started to paint on batik and her work was first featured in the Robert Holmes à Court Collection. She has been painting on canvas since the early 1990's and her work has been well received in galleries throughout Australia.
Gracie paints her father's dreaming 'The Bush Plum'. She uses fine dot-work to depict the land and growth of the Bush Plum.