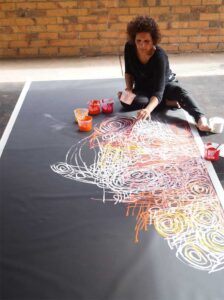 Born 1975
Tribe: Alyawarre
Area: Central Desert
Charmaine Pwerle was born in 1975 at Utopia Station, Central Desert of the Northern Territory.
An established artist and custodian of the Awelye (women's body painting ) story, Charmaine is from a family of prominent famous painters. As a celebrated established artist,Charmaine is set to follow in the footsteps of her highly acclaimed mother Barbara Weir and Grandmother Minnie Pwerle.
Charmaine's grandmother – one of Australia's most renowned female desert painters is Minnie Pwerle (deceased, c.1910 – 2006; featured in the National Gallery of Victoria, The Queensland Art Gallery and The Art Gallery of New South Wales).Charmaine has inherited her stories from her Grandmother's Country of Atnwengerrp.
Charmaine's artistic career began in the early 90's, producing acrylic works on canvas. Her paintings include representations of particular Women's Dreamings' , involving ancestral traditions specifically related to life and land of the Utopian desert region, located North East of Alice Springs.
Collections:
National Gallery of Victoria, Melbourne