George Ward Tjungurrayi
To be Auctioned on July 25th 12 Noon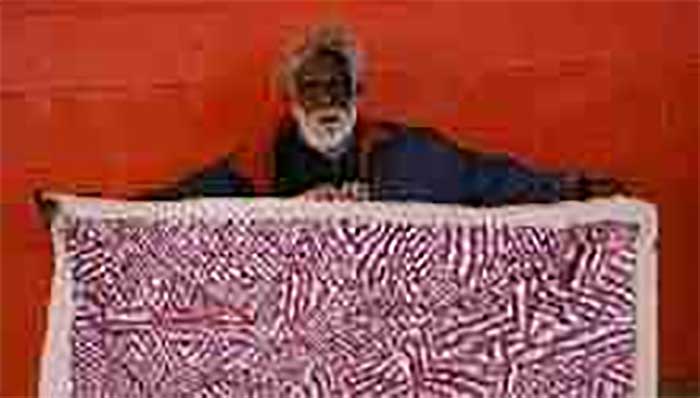 Tribe: Pintupi
Area: Central & Western Desert
Born: c. 1945
George Ward Tjungurrayi was born in the vicinity of Kiwirrkura. He began painting for the famed Papunya Tula Artists in about 1976.
His ancestral country covers the sites around Wala Wala, Kiwirrkura, Lake Mackay, Kulkuta, Karku, Ngaluwinyamana and Kilpinya to the north-west of Kintore across the West Australian border. George paints the Tingari stories for this region. Tingari Cycle refering to ancient stories of the Tingari People who travelled the land during mythological times.
One of George's most recent achievements is winning the prestigious 2004 Wynne Prize at the Gallery of New South Wales for his topographical depiction of the Western Desert. He has also exhibited in many galleries throughout the past decade.
Awards
2004 – Wynne Prize – NSW Art Gallery
Collections
National Gallery of Victoria – purchased 1997
Artbank
Art Gallery of South Australia, Adelaide
Groninger Museum, Groningen
Museum of Victoria, Melbourne
Robert Holmes à Court Collection, Perth
Supreme Court of the Northern Territory, Darwin
Solo Exhibitions
1997 – Utopia Art, Sydney – Solo show
1998 – Gallery Gabrielle Pizzi, Melbourne, Australia
Group Exhibitions
1990 – Friendly Country – Friendly People, Araluen Centre for the Arts, Alice Springs, Australia
1991 – Araluen Centre for the Arts, Alice Springs, Australia
1992 – Broadbeach, Australia
1993 – Canberra, Australia
1994 – Broadbeach and Adelaide, Australia
1995 – Canberra, Australia
1995 'Dreamings' – Tjukurrpa, Groninger Museum, Groningen,The Netherlands
1995 Museum & Art Gallery of the Northern Territory, Darwin
1995 Papunya Tula Artists Pty. Ltd., Alice Springs,
1995 Australia Utopia Art Sydney, Australia
1996 Adelaide Fringe Festival, Papunya Tula Artists Pty. Ltd., Adelaide
1996 Araluen Centre for the Arts, Alice Springs
1996 Gallery Gabrielle Pizzi, Melbourne
1996 Museum & Art Gallery of the Northern Territory, Darwin
1996 Nangara. The Australian Aboriginal Art Exhibition, Brugge, Belgium
1996 Papunya Tula Artists Pty. Ltd., Alice Springs
1997 – Gallery Gabrielle Pizzi, Melbourne
1997 Geschichtenbilder, Aboriginal Art Galerie Bähr, Speyer, Germany
1997 Papunya Tula Artists, Alice Springs, Australia
1998 – The Desert Mob Show, Araluen Centre for the Arts, Alice Springs, Australian
1999 – Aboriginal Art, IHK Würzburg, Deutschland (in Kooperation mit Aboriginal Art Galerie Bähr, Speyer)
2000 – 'Art of the Aborigines', Leverkusen, Germany (in cooperation with Aboriginal Art Gallery Bahr, Speyer)
2000 'Lines', Brisbane, Queensland
2000 Papunya Tula: Genesis and Genius, Art Gallery of New South Wales, Sydney
2000 Pintupi Men. Papunya Tula Artists, Alice Springs, NT, Australia
2001 – Art of the Pintupi, Adelaide
2001 Kintore and Kiwirrkura. Gallery Gabrielle Pizzi, Melbourne
2001 Palm Beach Art Fair, Palm Beach, Florida, USA Papunya Tula
2001 Melbourne, Australia
2004 – Art Gallery of NSW– Wynne Prize
Literature
Friendly Country – Friendly People. Kimber, R. (Hrsg.), Araluen Centre for the Arts, Alice Springs 1990. Johnson, V.
Aboriginal Artists of the Western Desert. A Biographical Dictionary, Craftsman House, East Roseville 1994, ISBN 9768097817 pg204
Nangara. The Australian Aboriginal Art Exhibition from the Ebes Collection. The Aboriginal Gallery of Dreamings (Hrsg.), Melbourne 1996. Stourton, P. Corbally
Songlines and Dreamings. Lund Humphries Publ., London 1996, ISBN 0853316910
Papunya tula Genesis & Genius – Published by AGNSW 2000 pg 120,121,180, 181, 195, 227, 281, 294
Contemporary Aboriginal Art by Susan McCulloch. Published by Allen and Unwin 1999, pg 63
Showing all 3 results