Jack Britten
To be Auctioned on July 25th 12 Noon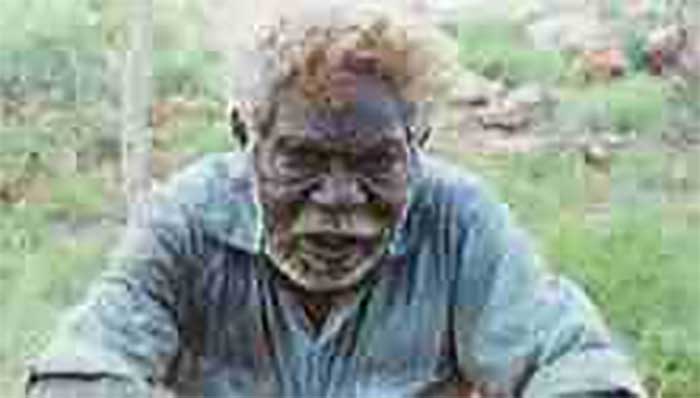 Tribe: Joolama
Area: Kimberley
Born: c.1920 – 2002
The late Jack Britten was a respected Aboriginal artist and senior law man from the Kimberley region of Northern Australia. His paintings focus on his country, it's origins, ceremonies and ancestral figures. His canvases are the result of his vast knowledge and insight into the myths and legends of his country. Jack is a part of the original Turkey Creek artists, including Rover Thomas, Hector Chundaloo, Beerbee Mungnari and Henry Wanbims.
Yalatji (Jack's given name at birth) was born and raised in the bush in the Tickalara area just south of Turkey Creek and west of the Bungle Bungles, and also lived at Frog Hollow. His memories include sitting with family in the hills and seeing white people for the first time and of the camel wagon trains and their Afghan drivers with supplies for the outstations.
A white manager of Hann Springs cattle station, named Jack Britten, took young Yalatji under his wing and bestowed his name on him and taught him the basics of station life. Jack's horsemanship was legendary, and he worked as a stockman on many East Kimberley cattle stations. He participated in some of the last big cattle drives from Mt. Isa, in Queensland, bringing herds of up to two thousand animals all the way back to the Kimberleys and in doing so crossed Australia from east to west.
In the wet season, when mustering became impossible, Jack would be found camped in the gold fields of Halls Creek, where, he would "spec" for nuggets, which he could trade with dealers for flour, tobacco and blankets.
Jack did not paint during his years in the saddle. His inspiration as an artist arrived later – apparently not coming until he was based in the community, and presumably from his proximity to such artists as the late great Queenie McKenzie, Paddy Tjamatji (Jampinji), George Mung Mung and Rover Thomas.
As a senior lawman, his repertoire of the myths and legends of the gnarangani (Dreamtime) is vast and provides a firm base for his very visual and descriptive canvasses. Jack is the latest in the line of succession of traditional owners of the Bungle Bungles.
Jack's work depicts the textured ochre painting that has characterised work of the Kimberley's. In particular, Jack's work reflects the Bungle Bungle country. Jack's works have been included in national and international exhibitions. One of Jack's works was acquired by the National Gallery of Australia, Canberra.
Collections
Aboriginal Art Museum, The Netherlands.
Art Gallery of New South Wales, Sydney.
Art Gallery of Western Australia, Perth.
Artbank, Sydney.
Museum and Art Gallery of the Northern Territory, Darwin.
National Gallery of Australia, Canberra.
National Gallery of Victoria, Melbourne.
The Holmes a Court Collection, Perth.
The Kelton Foundation, Santa Monica, U.S.A.
Showing all 5 results