Kamahi King
To be Auctioned on July 25th 12 Noon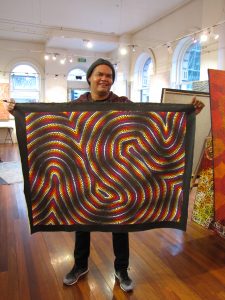 Tribe: Gurindji and Wanyi
Area: Central & Western Desert
Born: 1972
Kamahi King was born in 1972 in Katherine, Northern Territory. Kamahi began painting and sketching at a young age.
Kamahi's grandfather, a member of the Gurindji tribe, was born at Banka Banka in the Northern Territory and was both a teacher and a mentor to young Kamahi who grew up in Katherine. His grandfather told him stories about the desert and his knowledge was invaluable as this old man had travelled many miles mustering across the country and had a kinship to the land he knew so well.
As a result Kamahi's work is greatly influenced by his grandfather's teaching and he successfully inter-mingles his own unique style and images with other art styles taken from many locations and experiences. This combination of knowledge and "Dreamings" is what we see in all his works.
Kamahi explains "As a child I often travelled with my father and uncles. They would paint out significant sites and places they had camped on their travels throughout the Top End. Many of these sites are situated in remote locations."
These special places are varied and range from the deserts of Central Australia across the Barkly tablelands to the Billabong country of the tropical Northern Territory.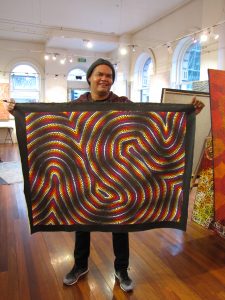 Showing the single result