Lorna Fencer Napurrula
To be Auctioned on July 25th 12 Noon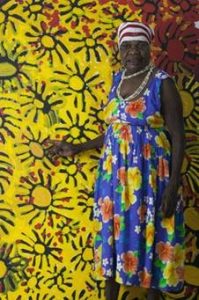 Lorna Fencer Napurrula is a Senior Warlpiri Custodian, and has been painting since 1986. Lorna was born about 1920 at Yartula Yartula. Nearby is land inherited by Lorna, Yumurrpa located south of the Granites Mine Area in the Tanami Desert, Northern Territory. Lorna is among a small group of women who collectively produced the first paintings at Lajamanu.
Lorna Fencer was among the many Warlpiri people forcibly relocated to Lajamanu along Hookers Creek, where a government settlement had been established. This country is the traditional land of the Gurindji Aboriginal people. Despite relocation, Lorna Fencer retained her cultural identity through ceremony, story telling and painting her art.
Lorna's work depicts the bush foods of her country originating from Dreaming stories taught to her involving the travels of the Napurrula and Nakamarra skin(or kinship) and some Dreamings from her father's country of Wapuurtarli. Her main Dreamings are about the gathering and growth of bush foods such as the Yarla (Yam), Wapirti and Marlujarra. These Dreamings entitle her to paint subjects such as the bush yam (sweet potato), "ngalatji" (little white flower), bush tomato, berry, caterpillar (luju), wallaby, onion, water and particular mens stories including boomerangs.
This painting depicts the wildflowers which line the desert floor during the wet season.
The use of vibrant colours and layering creates an exuberance and depth to her work, not often seen in painting of this region, more typically known for its dot work.
Awards
1997 Gold Coast City Art Award, Queensland
Collections:
The Holmes à Court Collection, Perth, Western Australia
Christensen Collection (housed at Museum of Victoria)
Museum & Art Galleries of the N.T, Darwin
National Gallery of Victoria
Perth Museum
Australian Heritage Commission, Canberra
Artbank, Sydney
Laverty Collection, Sydney
Margaret Carnegie Collection
Showing all 3 results