Mitjilli Naparulla
To be Auctioned on July 25th 12 Noon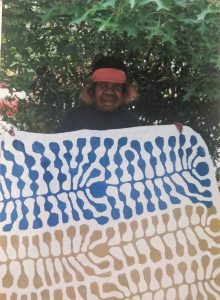 Tribe: Pintupi
Area: Central & Western Desert
Born: c. 1945
Mitjilli Naparrula is one of the most famous Aboriginal women painters. Mitjilli is a Pintupi women born at Haasts Bluff in about 1945. In 1993 she first began painting for the Ikuntji Womens Centre. Mitjilli paints her fathers Dreaming, Uwalki, which is the story of the spear straightening ceremony as taught to her by her mother. Mitjilli also paints the topography of her father's country with its pristine sandhills, shrubs and Uwalki Trees. Her family is one of great importance in the Aboriginal community of Papunya. Her mother is well-known artist Tjunkayi Napaltjarri who was involved in the 'Minyma Tjukurrpa Project' and consequently became one of the principal women painters at Kintore. Her Brother is the late chairman of Papunya Tula Artists, Turkey Tolsen (deceased), who is also renowned for his artworks, which are sought by investors all over the world. Mitjili is married to artist Long Tom Tjapanangka. Long Tom won the prestigious 1999 N.T Telstra Art Award. Mitjilli's sister is Wintjiya Napaltjarri and wife to Turkey Tolsen's father, Tupa. Mitjili's work has been exhibited in Australian galleries since 1994 in both group and solo exhibitions, including: the National Gallery of Australia, Art Gallery of New South Wales and Flinders University, South Australia
Mitjili has received a number of awards for excellence. These include the Australian Heritage Art Award, Canberra in 1993. In 1994 Mitjilli won the Northern Territory Art Award, Alice Springs and the Alice Spring Art Award in 1999.
Representing the female side of her tribe's Dreamings, Mitjili paints the trees that are used to make spears, whereas her brother Turkey Tolsen painted the Dreaming associated with the spear making itself. Mitjili was taught her father's dreaming by her mother. Mitjilli considers this to be one of her most important connections to her father because her father's country, Ulwalki, is where the trees are found that provide the wood for spear making. Mitjilli utilises strong symbolic patterns with vivid contrasting colours to represent her Dreamings. Formative symbols appear against a dotted background, creating depth and movement.
The majority of her works include strong , vibrant reds, yellows and browns which represent the colours of the land including flowers and plant varieties growing in her country. Mitjilli's work has an incredible vitality. She has a command of space and colour that trademarks her distinctive style. Her works are widely collected both publicly and privately, and have been exhibited both nationally and internationally.
Awards
1993 – Australian Heritage Award, Canberra, ACT
1994 – Northern Territory Art Award, Alice Springs, NT
1999 – Alice Springs Art Award
Selected Exhibitions
2000 – Adelaide Biennial 2000, Beyond the Pale, SA
1999 – Spirit Country: Contemporary Australian Aboriginal Art, Fine Arts Museum of San Francisco
1999 – Haasts Bluff Artists, Original & Authentic Aboriginal Art, Melbourne
1994 – Adelaide Fringe Festival
1994 – Hotel Shangri-la and Australian High Commission, Singapore
Collections
National Gallery of Australia, ACT
National Gallery of Victoria, Vic
Museum and Art Gallery of the Northern Territory, NT
Art Gallery of New South Wales, NSW
Aboriginal Art Museum,The Netherlands
Art Gallery of South Australia, SA
Art Gallery of Western Australia, WA
Artbank, NSW
Baillieu Myer, de Young Museum, San Fransisco, USA
Campbelltown Regional Gallery, NSW
Flinders University, SA
Latrobe University, Vic
Mornington Peninsula Gallery, Vic
Showing all 5 results