Paji Honeychild Yankarr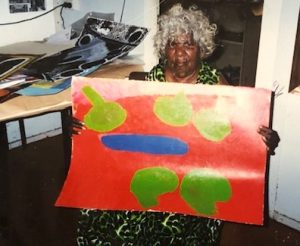 Paji Honeychild Yankarr was born c 1912 along the Canning Stock Route, Fitzroy Crossing, Western Australia. Paji paints in a gestural, untrammelled manner, using a brush loaded with colour, with minimal marks. The main elements of her works, desert plants and land formations, are blocked in with broad sweeping brushstrokes. "I paint the country for my family. I grew up in the river country near Fitzroy Crossing".
Karro, Paji's Waterhole depicts a story from her homeland. Karro is a permanent waterhole in the Great Sandy Desert, found in the south central region. This waterhole teamed with life in contrast to the vast sandhill country surrounding it. This painting depicts Karro after the long awaiting rain, about April.
Collections:
National Gallery of Australia, Canberra, ACT
National Gallery of Victoria, Melbourne
Art Gallery of New South Wales, Sydney
Museum and Art Gallery of the Northern Territory, Darwin
Queensland Art Gallery, Brisbane
South Australia Museum, Adelaide
The Holmes a Court Collection, Perth
Showing all 2 results