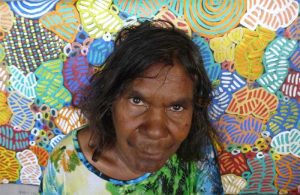 First Nation Group: Anmatyerre
Area: Central & Western Desert
Born: c 1945Betty Mbitjana's was born circa 1945 at Utopia, Northern Territory. Her mother is the late Minnie Pwerle, from whom she has inherited her main totem of the 'anemangkerr' or bush melon and bush tomato. Betty's other main inherited painted stories are the Women's body paint designs worn during Awelye or Women's ceremony.
Awelye depicts the specific women's body paint design for women's ceremony concerning fertility of the land and its relationship with food and water provisions.Betty's paintings depict the designs that the women paint on their bodies and may include the dancing tracks which are made in the sand during women's (Awelye) ceremony. Through their Awelye ceremonies, women pay homage to their ancestors, show respect for their country and dance out their collective maternal role within their community.
Betty was involved with Batik work at Utopia and her work is represented in the Holmes a Court Collection and features in the catalogue 'Utopia – A Picture Story'.